Date Entry
December 21, 2018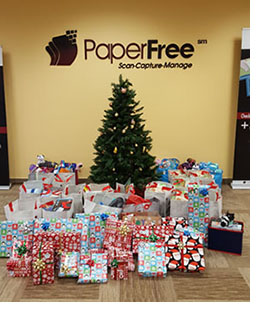 This month PaperFree and its employees again completed a heartfelt charity project for several San Diego-area families in need. This project, now becoming a annual company tradition, gave employees the opportunity to select a needy family of their choice to adopt and to plan, purchase, and deliver gifts to them.  All gift purchases were sponsored by PaperFree and adopted families came from local churches, schools, and the Ronald McDonald House center located at Rady Children's Hospital in San Diego.  PaperFree was delighted to again work with the Ronald McDonald House, and supports their mission is to provide housing, meals, schooling, and so much more to the families of critically ill children being treated at numerous hospitals in San Diego's Kearny Mesa area. Learn more about the Ronald McDonald House San Diego.
PaperFree employees have come to look forward to this event and the joy it brings them to facilitate an exciting and happy holiday for families who face tough circumstances - be it financial or health crises.
PaperFree is grateful for its many opportunities to contribute to the local communities and wishes all a happy and safe holiday season and a joyous new year!