PaperFree brings over ten years of healthcare business process automation experience to assist organizations in digitizing their information and creating effective, accurate, and cost-efficient solutions to manage their information management needs.

All healthcare companies are responsible for a lot of information - patient data, orders, test results, prescription information, claims, and a variety of practice-specific data. Managing this burden of data is an ongoing struggle and a struggle that is made even more difficult with recent legislation requiring digital records, HIPAA compliance, and other regulatory requirements.  At the forefront of all of this is the need to provide excellent customer care while being mindful of the costs and competition to do so.
From expanding regulatory measures and fraud mitigation, to growing customer demands and rising overhead, it's never been more critical for Payors to process claims accurately and on time.  However, there is the opportunity to leverage the volumes of information to power your company's processes to complete these requests quickly and correctly with a content management platform from PaperFree - the foundation on which successful business data management is built. From collaborating on business documents, building workflows to speed the processing of information, to delivering case-based applications to managing highly precise processes in most regulated business environments, it offers the platform necessary to make sense of your information and make it work for you.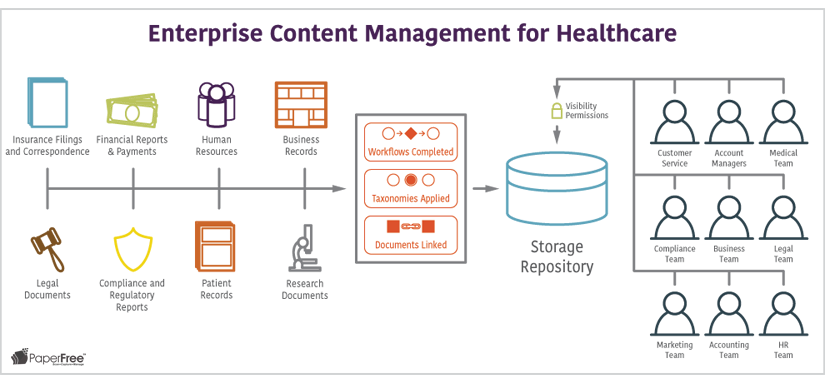 Boost productivity and reduce data entry costs
Improve operational efficiencies and data accuracy, while minimizing the labor costs associated with processing claims manually.
Improve customer satisfaction and loyalty
Enhance service delivery by reducing the amount of errors and rejected claims that prevent the quick turnaround that today's healthcare customer expects.
Significantly minimize compliance risk and HIPAA liability
PaperFree content management solutions offersa variety of powerful tools to enable your operation to store data in one central, streamlined repository while enabling users in all areas of your enterprise to access the information they need quickly. Taxonomies and built-in workflows are also included to enhance the access of information by cross-linking information and allowing quick searches. Effective permission configurations keep information available to only those who are allowed to see it. And, it's scalable and administration is simplified.
PaperFree and OpenText offer a variety of solutions for healthcare organizations:
Clinical Archiving
Decommission obsolete systems
Archive structured and unstructured documents
Archived information remains available
Easily organize patient information
Data is available to distributed authorized users on the system
Image and Content Management
Access images quickly
A single repository for data storage consolidates resources and eases IT requirements
Improve patient care by reducing repeated care and tests
Content-enabled Electronic Medical Records
Capture structured and unstructured content types
Import data from older systems
Captures all content types
Transition from paper to electronic records
Single platform means easy maintenance and access
Unified records mean better patient care across linked providers
Medical Record Digitization
Comply with regulations that require digital medical records
Retire legacy applications
Enterprise information capture and management solutions from PaperFree empower your enterprise to put its data to work for you – reducing costs, time searching for information, and increasing the power of your business information. To learn more about how PaperFree can employ these solutions in your organization, please give us a call today.
PaperFree offers solutions that speed up your organization's accounting processes - solutions that can receive invoices, digitize them, and then populate them into a workflow that is automatically routed to the correct department.  Accounts payable needs are covered as well with powerful utilities such as DepositCritical check processing.  By doing this, your enterprise can speed the reconciliation of accounts and reduce the error that comes with handling paper documentation.
Human Resources departments are one of the most paper-heavy departments of an organization.  The paperwork is endless: employee files, benefits forms, disability paperwork, payroll, reports, applications, memos, etc. - this burden can slow down any department.  With electronic data capture and management, these files can be managed and retrieved quickly and easily.  No more lost paperwork or piles of things to file - everything is automatic, streamlined, and accessible by those with proper permissions.  Employees enjoy faster responses to their inquiries and the overall process is more streamlined.
Among one of the most complex and confusing processes an organization will undergo is a merger or acquisition.  The consolidation of workforces, physical assets, intellectual property, and business processes is an intensive undertaking.  By organizing your information with an enterprise capture and management solution, you can track the process of specific steps, who has them, and where they will go next.  PaperFree's backfile conversion solutions also allow you to digitize old, paper information to make it more easily available for review by regulators and workers.  By streamlining the process of a merger or acquisition, this solution saves money, time, and the headaches involved.
---
A subset of the claims processing being handled today has to do with a very cumbersome and complex challenge - workers compensation. These claims are often more than just the simple processing of an incoming claim or 'bill' but also include a variety of additional documents that must also be dealt with such as medical reports, legal documents, correspondence, etc. PaperFree has been working closely with workers compensation providers for years and has developed ClaimsPAK+, an automated solution designed specifically for the complex and challenging needs associated with processing workers compensation claims. To learn more about how PaperFree can help automate your processes for more efficiency, greater accuracy, and increased customer satisfaction - give us a call today.