Life Science and pharmaceutical companies - companies that are on the forefront of many of the products and services that we enjoy today - must manage incredible amounts of information.  In the past, this information has all been paper-based which requires significant labor to manage, locate, and organize.  And unfortunately, documents were often lost and more than one group couldn't work on them at the same time.  In these heavily-regulated industries, accuracy is key.
However, there is the opportunity to leverage these large volumes of information to power your company's processes with content management solutions from PaperFree - the foundation on which successful business data management is built. From collaborating on business documents to delivering case-based applications to managing highly precise processes in most regulated business environments, it offers cost-saving options to manage your data and help your organization excel.
PaperFree offers a variety of powerful tools to enable your operation to store data in one central, streamlined repository while enabling users in all areas of your enterprise to access the information they need quickly. The development process of a medication can be documented for regulatory purposes.  Multiple scientists can contribute to a report.  Documents can be tracked all along their process in the workflow.  Taxonomies and built-in workflows are also included to enhance the access of information by cross-linking information and allowing quick searches. Effective permission configurations keep information available to only those who are allowed to see it. And, it's scalable and administration is simplified.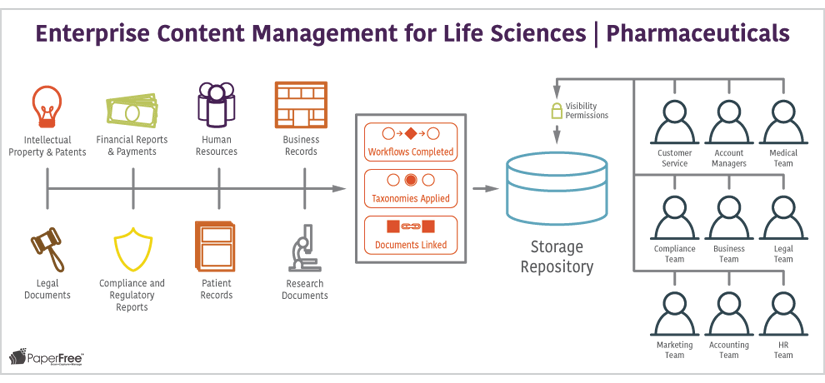 PaperFree offers solutions that speed up your organization's accounting processes - solutions that can receive invoices, digitize them, and then populate them into a workflow that is automatically routed to the correct department.  Accounts payable needs are covered as well with powerful utilities such as DepositCritical check processing.  By doing this, your enterprise can speed the reconciliation of accounts and reduce the error that comes with handling paper documentation.
As technology has advanced, new options for data processing have emerged that have had a immense impact on how our businesses and organizations are run.  However, in many cases old paper data still remains, locked up in dusty filing cabinets and expensive storage facilities.  Access to this data requires labor, travel, and at times exhaustive searching to find a critical document.  The cure for this malady is backfile conversion - converting all those paper documents to digital information that can be stored, accessed, and managed remotely.  And, digital files mean that multiple users can access a piece of information at the same time without leaving their workstations.  Backfile conversion also allows you to adhere to document retention laws without the burden of expensive and inefficient storage.  PaperFree is experienced in backfile conversion and offers many solutions customized to your needs.
Banking and financial institutions are one of the most highly regulated industries today - Check21, the Patriot Act, and FDIC regulations are only a few of the standards that they must adhere to.  Enterprise content management solutions ease this burden by enabling your industry to maintain accurate, comprehensive reports for regulatory review.  Powerful workflows assist in making sure that no steps are missed in the process and that all of the correct assets are available.  And, documentation for legal cases can be easily organized and reviewed by only those with permission to do so.
Among one of the most complex and confusing processes an organization will undergo is a merger or acquisition.  The consolidation of workforces, physical assets, intellectual property, and business processes is an intensive undertaking.  By organizing your information with an enterprise capture and management solution, you can track the process of specific steps, who has them, and where they will go next.  PaperFree's backfile conversion solutions also allow you to digitize old, paper information to make it more easily available for review by regulators and workers.  By streamlining the process of a merger or acquisition, this solution saves money, time, and the headaches involved.

Customers trust financial institutions with their money, and are more and more relying on them to protect their personal information as well.  This is often achieved through digital security measures, but occasionally there are paper forms that contain sensitive data that must be protected.  PaperFree's BlackMark and BlackMark+ redaction solutions offer powerful protection by "burning" the confidential data in the image so that there are no loopholes to access it.  BlackMark is a manual redaction solution that offers a variety of redaction options and annotations, and BlackMark+ offers automated redaction of a variety of configurable document types.  Visit BlackMark to learn more.
Enterprise information capture and management solutions from PaperFree empower your enterprise to put its data to work for you – reducing costs, time searching for information, and increasing the power of your business information. To learn more about how PaperFree can employ these solutions in your organization, please give us a call today.