Religious institutions are a unique entity in the content management world, but are still an entity that must manage mountains of paperwork - member records, facility repairs, special projects, donations, and so on.  These various documents have often required the use of separate processing and management systems which complicates the process even more.  The ability to manage this information while managing costs, legal requirements, and needs from membership is becoming an increasing challenge given the variety of information formats and the new ways to create it.
PaperFree offers flexible and powerful enterprise information capture and management systems to enable you to leverage this information to power your company's processes.  As the foundation on which successful business data management is built, they allow your organization to capture paper data and digitize it into useful, efficient data that can power your enterprise. From collaborating on business documents to delivering case-based applications to managing highly precise processes in most regulated business environments, PaperFree offers an effective solution for your business.
PaperFree offers a variety of powerful tools to enable your operation to store data in one central, streamlined repository while enabling users in all areas of your enterprise to access the information they need quickly, which saves time, expense, and improves your customers' experience.  Having all necessary information with the click of a button can also help mitigate risk, facilitate business decisions, and also more easily work through the process of mergers and consolidations.  Taxonomies and built-in workflows are also included to enhance the access of information by cross-linking information and allowing quick searches. Effective permission configurations keep information available to only those who are allowed to see it. And, it's scalable and administration is simplified.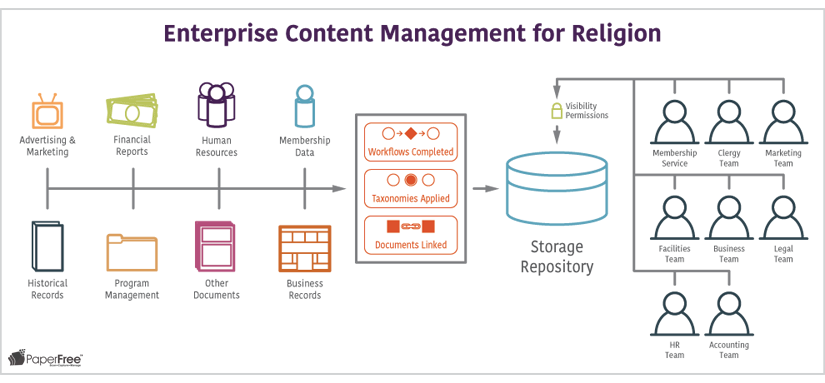 PaperFree offers solutions that speed up your organization's accounting processes - solutions that can receive invoices, digitize them, and then populate them into a workflow that is automatically routed to the correct department.  Accounts payable needs are covered as well with powerful utilities such as DepositCritical check processing.  By doing this, your enterprise can speed the reconciliation of accounts and reduce the error that comes with handling paper documentation.
Information capture and management is an effective solution for old files as well.  Instead of storing archived documents in expensive warehouses, where they are at risk of fire, flood, or theft, a simple process of scanning, digitizing, and classifying documents allows organizations to maintain an easily accessible database of information that requires no digging through boxes, exhaustive searches, and little effort to maintain once the initial conversion is complete.  Sensitive files can be protected from those not authorized to view them, while the files as a whole are accessible from any workstation on your network.  Faster lookups means easier service, faster research for specialized reports, and extensive cost savings.
One particular burden that religious institutions must cope with is paper checks.  Donations, fees, and other items that payment is presented for are extensive and at times, payors may only provide one check to cover multiple accounts.  PaperFree offers helpful solutions to more easily manage this need, without creating extensive extra steps in your accounts receivable processing.  In fact, PaperFree's solutions integrate seamlessly with capture solutions, automatically recognizing payments for a variety of transaction types and reconciling accounts electronically with Check21 standards.  Checks are cleared faster and never leave your premises, reducing errors as well as the cost of a lockbox service!
Religious institutions must be dilligent in their record keeping and financial practices to protect their tax status.  Enterprise content management systems eases this burden by enabling your organization to maintain accurate, comprehensive reports for regulatory review.  Powerful workflows assist in making sure that no steps are missed in the process and that all of the correct assets are available.  And, documentation for legal cases can be easily organized and reviewed by only those with permission to do so.
For a faith-based organization, the process of managing its members runs very much like a customer service arm of a large enterprise.  Personal records must be kept along with financial records and service records, and must be easily accessed on demand.  With content management systems from PaperFree, donation documents don't go missing and the powerful workflow capabilities ensure that no steps are skipped in church records.  Members will also enjoy faster answers to their questions, less problems with paperwork, and membership without hiccups.