How can Captiva Accounts Payable and Invoice Processing automation help your enterprise?

Processing and keeping track of paperwork for Accounts Payable invoice processing can be a daunting, disorganized process - but with automated AP processing solutions from PaperFree your hassles can be eliminated and much of the process can even be handled automatically.  Using a capture system such as OpenText Intelligent Capture, a class-leading capture system, and custom workflows, our end-to-end solutions work from receipt of invoices through to approval and archiving.  Cost effective and fully featured, our paperless solutions feature queue-based workflows, automatic notifications, and complete integration with enterprise resource planning (ERP) and line of business (LOB) systems.
Our Intelligent Capture accounts payable and invoice processing systems enable your enterprise to process invoices more quickly, with less manual data entry, and without the headaches that come from managing paper documents through multiple levels of approvals.  Regulatory compliance is also easy with PaperFree accounts payable solutions as digital images of invoices are indexed and archived for simple retrieval later - all without having to maintain a warehouse full of filing boxes.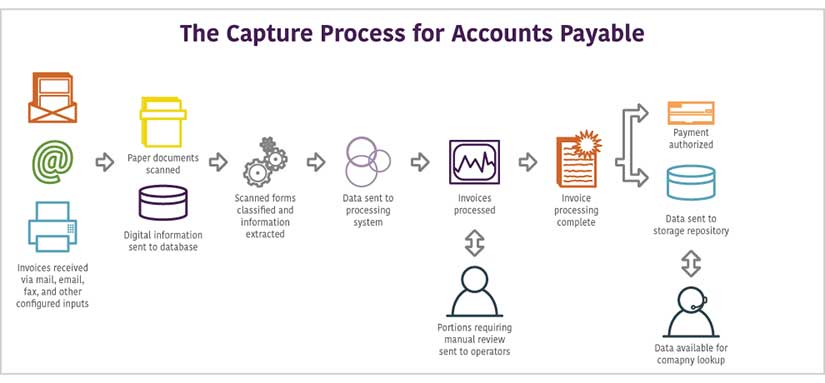 How does it work?
An accounts payable system needs data to run - and the first step is to gather invoices to process.  Typically, these invoices arrive in paper form by mail, but they can also be sourced from email inboxes, faxes, or other configured electronic inputs.
Next, invoice data is introduced into the Intelligent Capture system by scanning paper documents or importing electronic files into a processing queue.
Once documents exist as digital images in the queue, their information is analyzed and business-critical information such as names, account numbers, and dollar amounts are extracted and digitized.
This digital information is then exported to a customized workflow where it is processed and is routed to the appropriate operators if needed.  All of this happens automatically, and once manual steps (such as a management approval) are completed the document continues on to its next step with no additional action required on the operator's part.
Once invoice processing is complete and a payment authorized, the scanned invoice image as well as the information about its transaction are exported to a storage repository.  Here, it can be stored for compliance or can be easily pulled up by operators for customer service, management, or training needs.
Key Benefits to Automating Accounts Payable and Invoice Processing
End-to-end management – Integrate all key processes, from receipt and approval to archiving and auditing—and provide complete visibility into the entire process.
Control and compliance – Retain and archive documents in compliance with government and company policies.
Streamlined work – Provide users with a streamlined user interface that offers seamless integration between data from ERP or LOB systems and full views of all supporting documentation.
Vendor responsiveness – Quickly retrieve up-to-date, accurate vendor information, and respond promptly to vendor inquiries.
Elimination of paper storage – Eliminate the need for physical paper storage—digitize all documents and take advantage of records retention and storage capabilities.
Let PaperFree evaluate your enterprise's Accounts Payable needs and learn just how quickly you can be fully automated and processing payables faster and easier than ever before.