How can PaperFree help Federal, State, or Local government with tax processing?

PaperFree helps enable government agencies through the use of information capture technologies and strategic outsourcing solutions. These proven solutions are able to help tax processors achieve greater efficiency, increase accuracy, and reduce operating costs.
Key Benefits
Accurate – advanced recognition technology ensures high confidence in the accuracy of captured data.
Fast – captured data can be sent to a backend system for automated processing.
Easy compliance – store digital records more easily than paper for the required time.
Easy lookup – digital records can be easily retrieved for later review and analysis.
Information Capture Solutions
PaperFree provides leading technologies that bring significant automation to the processing of tax forms. These solutions are ideally suited for high volume complex forms processing which is indicative of the demands placed on most state and federal tax processing operations. Through the use of IDR (Intelligent Document Recognition) technology, tax processors are now able to process forms without the historical limitations typically found in most ICR/OCR solutions. Here are some of the benefits tax processors are now able to reap from this cutting edge technology:
Classification of mixed batches - tax customers can now significantly reduce the amount of prep and sorting once required for automation such as payments from non-payments, varying tax years, and even varying tax types.
Unstructured forms processing - once considered 'impossible' by many, the solutions PaperFree provides now boast the ability to consistently process unstructured forms such as W-2's with a high rate of success. Through the use of intelligent extraction methods, the technology is able to find and locate key pieces of information anywhere on a form and extract that data at speeds that provide the ability to easily process the sort of high volumes required during peak tax processing periods.
Check Processing and Full Page document processing within the same platform - traditionally, check remit processing for tax processors meant processing with two separate platforms. One to handle the full page documents or remittance advice and the other to handle the check (often accompanied by an manually created voucher). Through the use of advanced classification technology and solution consolidation by PaperFree, tax processors can essentially 'stack and scan' mixed batches including those that include payments.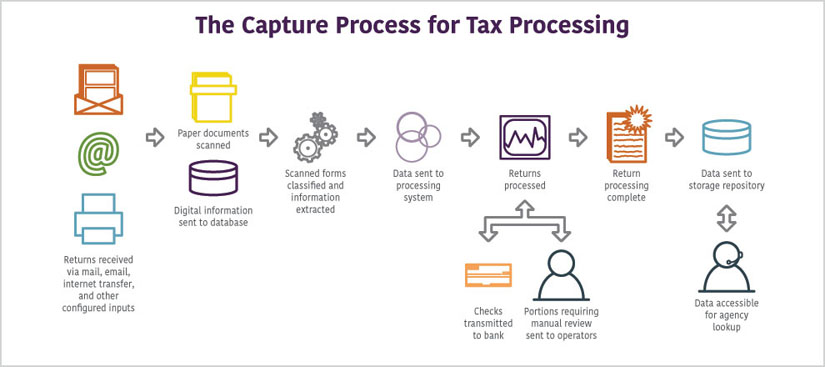 Strategic Outsourcing Solutions
Through the use of vCapture™, tax processors are now able to reap the benefits associated with both worlds - in house processing and outsourcing. vCapture™ is a product and service that integrates directly into a tax processor's in-house information capture solution and provides the means for them to utilize a virtual workforce of thousands of data entry keyers via the internet 24 hours a day, 7 days a week. vCapture™ is 100% secure and provides dual-source verification which ensures 100% accurate data each and every time. To learn more about how PaperFree can help enable automation for your tax processing operation, give us a call today.