PaperFree enjoys working relationshiops with Federal, State, County, and City government agencies. Information Capture and Management is a key piece in ensuring that government is able to operate effectively and efficiently.

Government agencies of all kinds find themselves burdened with the information they must process and retain – content that must be managed, organized, and accessible. How government agencies manage this data is an ongoing challenge given the variety of information that travels through their offices - contracts, forms, permits, case files, and more.  In many cases, each department of a larger agency uses a different system and process for managing their content - complicating matters when information must be shared between groups.  And, all this storage of this information must adhere to local and federal laws as well as comply with Freedom of Information Act requirements.
However, there is the opportunity to leverage this information to power your agency or department's processes – powerful content management platforms from PaperFree are the foundation on which successful business data management is built.  From collaborating on business documents to delivering case-based applications to managing highly precise processes in most regulated business environments, these systems can solve your information management headaches with efficiency and savings in environments where more work is assigned without corresponding budget increases.  Speed your information processing process by quickly building workflows and managing cases more effectively by seeing where work sits in the system.
PaperFree offers a variety of powerful tools to enable your agency to store data in one central, streamlined repository while enabling users in all departments to access the information they need quickly. Taxonomies and built-in workflows are also included to enhance the access of information by cross-linking information and allowing quick searches. Effective permission configurations keep information available to only those who are allowed to see it. And, it's scalable and administration is simplified.  Information capture and management solutions from PaperFree empower your enterprise to put its data to work for you – reducing costs, time searching for information, and increasing the power of your business information.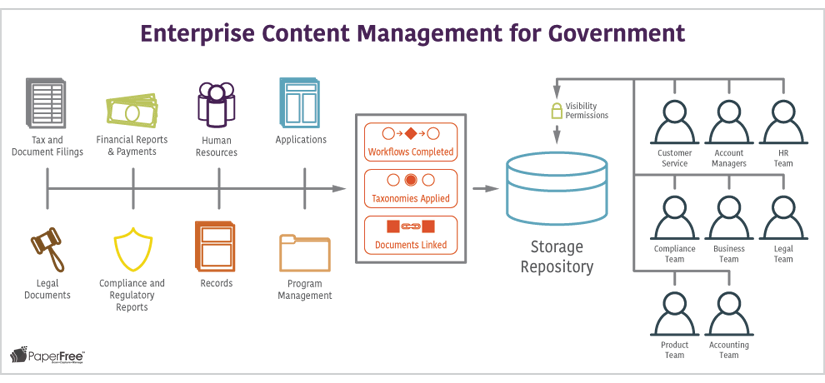 No organization handles more applications and paperwork than a government entity - applications for motor vehicle registrations and licensing, applications for special services, or paperwork registering the birth of a child or a marriage - the applications are endless.  However, PaperFree offers solutions to streamline the process of creating, accepting, and approving the application process.  By digitizing the information contained on submitted paper forms and loading it into a backend system, your department can digitize the whole process via a workflow.  Documents are only presented for the next approval once the previous steps have been completed, and can only be seen by those with appropriate clearances.  And, an entirely digital workflow allows applications to be processed more quickly, saving taxpayer funds, labor, and allowing services to be rendered to approved applicants more quickly.
As technology has advanced, new options for data processing have emerged that have had a immense impact on how our businesses and organizations are run.  However, in many cases old paper data still remains, locked up in dusty filing cabinets and expensive storage facilities.  Access to this data requires labor, travel, and at times exhaustive searching to find a critical document.  The cure for this malady is backfile conversion - converting all those paper documents to digital information that can be stored, accessed, and managed remotely.  And, digital files mean that multiple users can access a piece of information at the same time without leaving their workstations.  Backfile conversion also allows you to adhere to document retention laws without the burden of expensive and inefficient storage.  PaperFree is experienced in backfile conversion and offers many solutions customized to your needs.

PaperFree's Clarity is a powerful and easy-to-use system monitoring tool for capture systems.  Its browser-based interface offers helpful insight into what's happening with the workflow, the performance of operators, and offers valuable insight into how to allocate resources for the most efficient processing possible.  Is also offers advanced administration tools that can proactively resolve errors or notify appropriate managers to resolve them manually.  Visit Clarity to learn more.
All citizens at some point in their life require the services of a government entity - from filing taxes, filing paperwork, paying debts, or receiving services.  However, government entities often have a need to offer particular services at lower rates or extended terms to selected, approved groups of citizens.  These programs are a huge benefit to the community, but at the same time come with a lot of overhead in managing the application, approval, and maintenance aspects of offering a service outside of the norm.  PaperFree offers solutions that support these programs from application processing all the way to managing customer profiles, all while managing the costs and labor necessary.

On occasion, manufacturing companies have documents with sensitive information that must be protected by redaction, such as documentation about an unreleased or scrapped product, or even information to be omitted from a regulatory report.   PaperFree's BlackMark and BlackMark+ redaction solutions offer powerful protection by "burning" the confidential data in the image so that there are no loopholes to access it.  BlackMark is a manual redaction solution that offers a variety of redaction options and annotations, and BlackMark+ offers automated redaction of a variety of configurable document types.  Visit BlackMark to learn more.
Automated capture systems are especially adept at easing the burdens of processing tax returns.  Intelligent recognition tools quickly and easily convert scanned documents into digital information that can then be fed into processing systems for formal processing of the tax return.  Automating the process increases accuracy, reduces costs, and improves the experience for taxpayers by completing their return reviews quickly and without errors.  Visit Tax Processing Solutions to learn more.
Enterprise information capture and management solutions from PaperFree empower your enterprise to put its data to work for you – reducing costs, time searching for information, and increasing the power of your business information. To learn more about how PaperFree can employ these solutions in your organization, please give us a call today.