How can Enterprise Content Management solutions help your Telco, Media, & Entertainment workflow?

Telecommunication (telco), media, and entertainment companies are leading the way in how we consume content – content that must be managed, organized, and accessible. How this data is managed is becoming an increasing challenge given the variety of information formats and the new ways to create it.
PaperFree offers a suite of powerful content management solutions designed to handle these paper burdens; smart capture products to scan and digitize information, repositories to process and store data, as well as add-on solutions to expand the capabilities of these systems.
How does it work?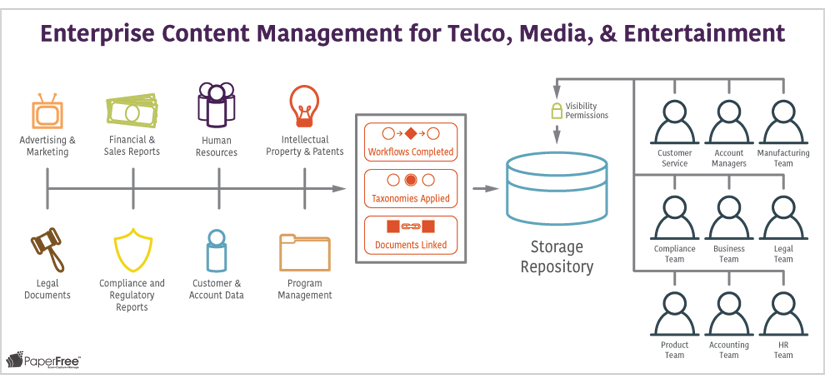 A capture system for a telco, media, and entertainment enterprise needs data to run - and the first step is to gather data to process.  Typically, this data arrives in paper form by mail, but it can also be sourced from email inboxes, faxes, or other configured electronic inputs.
Next, data is introduced into the Captiva system by scanning paper documents or importing electronic files into a processing queue.
Once documents exist as digital images in the queue, their information is analyzed and business-critical information such as vendor names, project IDs, and dollar amounts are extracted and digitized.
This digital information is then exported to a customized workflow where it is processed and is routed to the appropriate operators if needed.  All of this happens automatically, and once manual steps (such as a management approval) are completed the document continues on to its next step with no additional action required on the operator's part.
Once capture processing is complete, the scanned image as well as the information about its nature are exported to a storage repository.  Here, it can be stored for compliance or can be easily pulled up by operators for customer service, management, or training needs.
Information Capture & Management
There is the opportunity to leverage your data to power your company's processes with powerful information capture and content management solutions from PaperFree.  Our capture systems are the foundation on which successful business data management is built. From collaborating on business documents, delivering case-based applications, to managing highly precise processes in most regulated business environments, PaperFree offers powerful tools to manage your information.
PaperFree also enables your operation to store data in one central, streamlined repository, giving users in all areas of your enterprise access to the information they need quickly. Taxonomies and built-in workflows are also included to enhance the access of information by cross-linking information and allowing quick searches. Effective permission configurations keep information available to only those who are allowed to see it. And, it's scalable and administration is simplified. Track acquisitions, manage customer bases, and maintain information on all branches of your business.  PaperFree empowers your enterprise to put its data to work for you – reducing costs, time searching for information, and increasing the power of your business information.
Human Resources
Human Resources departments are one of the most paper-heavy departments of an organization.  The paperwork is endless: employee files, benefits forms, disability paperwork, payroll, reports, applications, memos, etc. - this burden can slow down any department.  With a content management solution from PaperFree, these files can be managed and retrieved quickly and easily.  No more lost paperwork or piles of things to file - everything is automatic, streamlined, and accessible by those with proper permissions.  Employees enjoy faster responses to their inquiries and the overall process is more streamlined.  Learn more about Human Resources solutions from PaperFree.
Legal & Regulatory Compliance
Legal departments for telco, media, and entertainment enterprises are a busy place.  Whether it's ensuring proper use of intellectual property, ensuring FCC compliance, or managing the business affairs of the enterprise, a content management solution eases this burden by enabling your industry to maintain accurate, comprehensive reports for cases and filing with government agencies.  Powerful workflows assist in making sure that no steps are missed in the process and that all of the correct assets are available.  And, documentation for legal cases can be easily organized and reviewed by only those with permission to do so.
Member Management
One of the perks of being a regular customer is the benefits that come with it in the form of discounts, special offers, and directed advertising.  Many industries offer frequent shopper programs, and the information necessary to run these programs must be managed.  PaperFree offers solutions to create, capture data for, and manage such programs to assist you in rewarding and keeping frequent customers.
Mergers & Acquisitions
Among one of the most complex and confusing processes an organization will undergo is a merger or acquisition.  The consolidation of workforces, physical assets, intellectual property, and business processes is an intensive undertaking.  By organizing your information with a content management solution, you can track the process of specific steps, who has them, and where they will go next.  PaperFree's InfoArchive backfile conversion solutions also allows you to digitize old, paper information to make it more easily available for review by regulators and workers.  By streamlining the process of a merger or acquisition, this solution saves money, time, and the headaches involved.
Retail
Many telco, media, and entertainment companies also operate a retail arm of their enterprise.  Whether it's a company store with branded merchandise or a customer service location, there are specific and unique requirements for retail environments.  PaperFree offers comprehensive solutions for your retail needs.  Visit Retail & Consumer Solutions to learn more.
---
Enterprise information capture and management solutions from PaperFree empower your enterprise to put its data to work for you – reducing costs, time searching for information, and increasing the power of your business information. To learn more about how PaperFree can employ these solutions in your organization, please give us a call today.