How can Enterprise Content Management solutions help your automotive workflow?

With the complexity of today's vehicles, manufacturers in the automotive sector are tasked with handling immense amounts of a variety of information - product designs, patents, legal documents, factory reports, and more.  The process of manually maintaining order to these documents is labor intensive and expensive, and all records must be accurate.  Workers rely on this information being readily available for development, collaboration between teams, and for legal cases - productivity depends on it.  How is a company to manage so many different types of information for so many different needs, all while protecting intellectual property and conforming to regulatory standards?
PaperFree offers a suite of powerful content management solutions designed to handle these paper burdens; smart capture products to scan and digitize information, repositories to process and store data, as well as add-on solutions to expand the capabilities of these systems.
How does it work?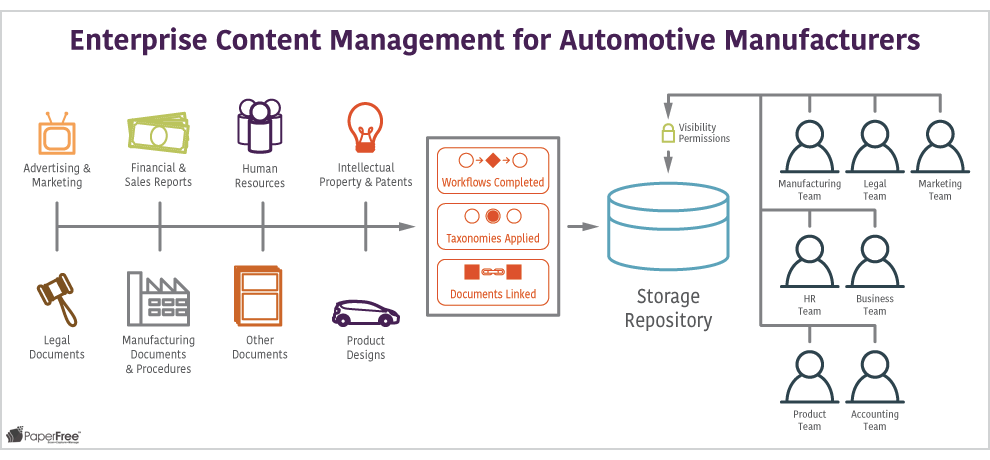 The process of enterprise content management for automotive sector manufacturers is relatively simple in concept.  Paper-based information (such as reports, product data, and more) is collected at the first point of contact and scanned into the system.  There, industry-leading capture solutions ingest and interpret the data against established rules and templates, quickly returning accurately digitized data that can be exported to a processing workflow.  Those workflows, customized for your individual enterprise, can handle any of a number of tasks automatically; manage design revisions, factory reports, or even process invoices for your Accounts Payable department.  In many cases they also link documents together, so all information relating to a project or product type are available together, without the need to search through endless folders.  Operators are only required to step in when there's a workflow exception or a step is designed to require approval, which significantly speeds up the process from paper document to usable data.  Once those workflows are complete, the data is stored for easy later lookup by those with configured permissions to do so.  
Though enterprise content management is simple in concept, it's much more complicated in execution.  That's why a trusted, experienced partner like PaperFree is your guide for how to maximize the functionality and economies of your content management system.  Contact us to learn more about how we can revolutionize your organization's data processes.
How can enterprise content management help you?
With all of your paper-based data digitized, processed, and in a central repository, information is at your fingertips.  The addition of precise, customizable workflows also helps you process automotive design and development information more quickly and accurately, returning higher productivity and lower labor costs.  Enterprise content management is also an excellent tool for distributed organizations - data can be retrieved or uploaded from anywhere, which expands the capabilities of a workforce that may not always be in the office.  Plus, data is kept safe with customizable access permissions to make sure that only those with proper permissions have access.  Visit our Information Capture page to learn more.
Human Resources departments are one of the most paper-heavy departments of any organization.  The paperwork is endless: employee files, benefits forms, disability paperwork, payroll, reports, applications, memos, etc. - this burden can slow down any department.  With data capture and electronic management, these files can be managed and retrieved quickly and easily.  No more lost paperwork or piles of things to file - everything is automatic, streamlined, and accessible by those with proper permissions.  Employees enjoy faster responses to their inquiries and the overall process is more streamlined.  Learn more about Human Resources solutions from PaperFree.
Among one of the most complex and confusing processes an automotive manufacturer will undergo is a merger or acquisition.  The consolidation of workforces, physical assets, intellectual property, and business processes is an intensive undertaking.  By organizing your information with an enterprise content management solution you can track the process of specific steps, who has them, and where they will go next.  PaperFree's backfile conversion solutions also allow you to digitize old, paper information to make it more easily available for review by regulators and workers.  By streamlining the process of a merger or acquisition, this solution saves money, time, and the headaches involved.
---
Enterprise information capture and management solutions from PaperFree empower your enterprise to put its data to work for you – reducing costs, time searching for information, and increasing the power of your business information. To learn more about how PaperFree can employ these solutions in your organization, please give us a call today.